Have you ever tried carrying anything larger than your butt in a Miata?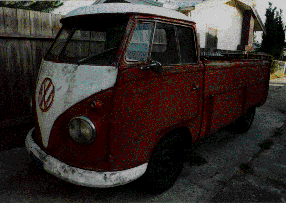 So I've got this old house, and I need to carry a lot of stuff, but I'm also having some sort of crisis that requires me to own a Miata.
So I need a truck, but, no, it can't just be any truck.
So I get a 1959 Volkswagen Pickup truck and spend a bleeding year under it with my mechanic buddy Al.

The first picture above is the before picture. In the after picture below Otto looks nearly the same, but now it stops and doesn't smell like gas.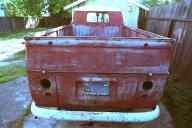 And if you don't think this bus can get anywhere, in March 1995, I joined a bunch of folks from the Vanagon mailing list on a trip to Red Rocks State Park, down in the Mojave Desert. Check it out!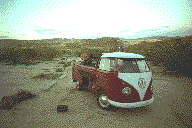 A recent picture of my truck doing what it was designed to do.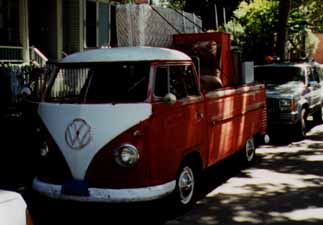 Through the clarity of night time flash photography, this photo shows the interesting patterns of paint that are evident on Otto.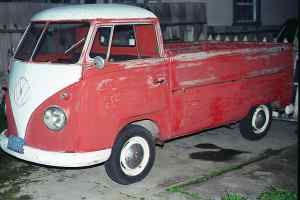 Otto is getting resurected as of 2020. Read more about this and an even more detailed history at The Samba here.
---
Bob R. Kenyon ©1996-2020